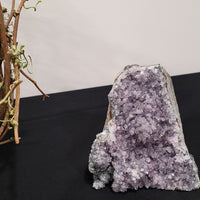 Amethyst Cluster - Self Standing - Light Lavender
Amethyst Clusters are the perfect addition to anyone's collection. This piece is a light lavender color and will stand on its own.
Birthstone: February
Chakra: Crown
Mohs scale of hardness: 7
Zodiac: Virgo, Sagittarius, Capricorn, Aquarius, Pisces
Tidbit: Amethyst comes from the Greek word, "a-methystos", which means not drunk.
Amethyst attributes: Boosts spiritual intuition, promotes patience, inner peace and mental stamina while reducing stress. The stone of sobriety - to help overcome vices. Known as the "artist's stone" by stimulating and centering a tired mind. Clears mind of negative vibrations to allow the mind to tune into new energies, promoting creativity and new ideas to divine inspiration.
Origin: Uruguay
Size: 4 inches x 3.5 inches x 2.5 inches