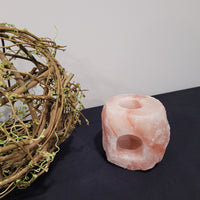 Himalayan Salt - Tealight Candle Holder
These Himalayan Salt tealight candle holders are beautiful with the natural glow of a candle inside. Each one is unique in coloration and can add a calming ambiance to your home. These candle holders have a hole in the side for easy access to your candle, as well as a hole in the top to release the heat from the candle. The candle sits deep inside to allow for a thorough heating of the salt, and allows for a better glow deep within. They could also be used as aromatherapy warmers with the proper tray on the top.
Himalayan Salt candle holders absorb water and positive ions from the air around them. When the candle produces heat, the cleansed water vapor is released back into the air with negative ions which have a positive impact on our bodies and physical environment.
Himalayan Salt has been reported to have many positive benefits. Some of these include:
- Neutralizing electronic air pollution through the reduction & neutralization of the positive ions that these electronics emit
- Cleansing the air of dust and toxins
- Helping people with asthma breathe better
- Boosting Mood
- Improving Sleep
- Easing Allergies
- Creating a relaxing and calm environment
Size: Approximately 4 inches x 4 inches x 4 inches
*Due to the nature of Himalayan Salt, size and colorations can vary.