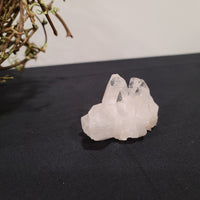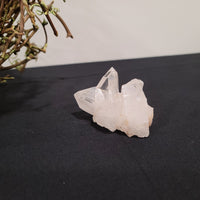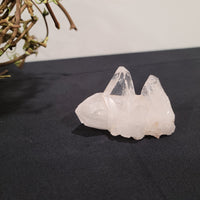 Quartz Cluster - Small Cluster from Arkansas - 2.6 ounces (74 grams)
Arkansas Quartz Crystal Cluster - Arkansas is known for the quality and clarity of the quartz crystals that come from the Mount Ida region. This piece is no exception. It's a beautiful clear quartz cluster with a small iron inclusion at the base.
Crystal Quartz Attributes: Quartz has a multitude of benefits and has been used for thousands of years in healing practices. I will list a few here, but I highly recommend looking up more of the amazing attributes this stone has. Quartz is the most powerful healing and energy amplifier on the planet because of its unique helical spiral crystalline form. It repels negative energy and provides clarity of thought. It absorbs, stores, releases, and regulates energy and is excellent for unblocking it. It can enhance psychic abilities and attune you to your spiritual purpose. It can aid in concentration and memory retention. It stimulates the immune system and brings the body into balance.
Chakra: Crown
Mohs scale of hardness: 7
Zodiac: Capricorn, Leo, Gemini
Origin: Arkansas, US

Fun Tidbit: Quartz is so abundant that almost every rock contains at least a small amount of it. Quartz has a unique electrical property called piezoelectric. This means when the crystal is squeezed it puts off a little bit of electricity. Crystal gets its name from the Greek krystallos, meaning ice, as it was thought that clear Quartz was actually ice formed by the Gods. The word Quartz is attributed to the German word of Slavic origin Quarz, meaning hard.
Size of Quartz: 1.5 inches x 2.5 inches x 1.5 inches Weight: 2.6 ounces (74 grams)