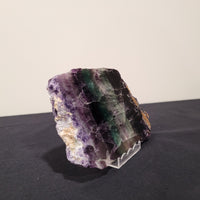 Rainbow Fluorite Slab with Stand
Rainbow Fluorite is a beautiful stone with many variations in color and style. It naturally occurs in all the colors of the rainbow. This piece in particular has a deep coloration of purple and green.
Chakra: Upper Chakras - Throat, Third Eye, & Crown
Mohs scale of hardness: 4
Zodiac: Pisces and Capricorn
Tidbit: Fluorite's name comes from the Latin verb fluere, which means to flow.
Fluorite Attributes: Fluorite is a highly protective stone, especially psychically. It can help you discern when outside influences are at work within you and shuts off psychic manipulation and mental influence. It cleans and stabilizes the aura, as well as protects against computer and electromagnetic stress. It can be used to help clean, purify, and reorganize anything within the body that's not within perfect order. It heightens the intuition and allows for deep spiritual awakening.
Size of Fluorite: 3.5 inches x 5 inches x 0.5 inches